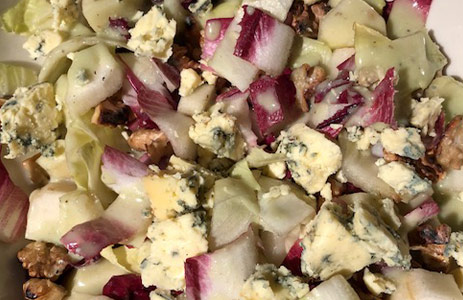 This salad is a wonderful palate cleanser before your have your Christmas Lunch. Give it a try. Id love to know what you would do for a light starter on Christmas Day. Let me know on Facebook, Instagram of Twitter.
2 Chicories/Endive – one white and the other ruby
100 g toasted walnuts or dry fry
1 medium Conference pear, peeled and cored and sliced
80 g Stilton cheese cold and crumbled
A few slices of chives.
Dressing
50 g Roquefort Cheese
20 g tepid water
1 tbsp white wine vinegar
2 tbsp olive oil
pinch of black pepper