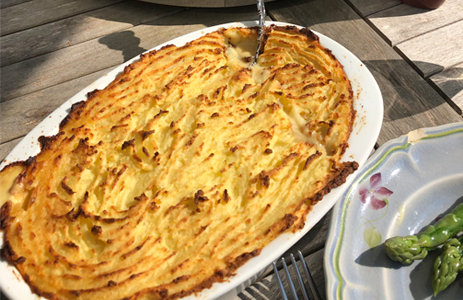 Peel and boil the potatoes in a large pan of water with salt for 40 mins. Then take off the heat and mash with plenty of butter, milk, salt and pepper. Leave to cool. Pour olive oil into a large saucepan and fry the chopped onion and garlic on high heat for 5 mins: , then add the mince stirring into the onions, carefully add the paste, marjoram, worcester sauce, parsley, and stock, turn down heat.
Let this simmer for at least 45 mins stirring occasionally. Take it off the heat adding salt and pepper. Pour into the dish and cover with cool potato. Comb with a fork, then into the hot oven for and hour when the top looks brown and crispy.
Turn on oven to 200 C and have a 12″ x 8 "dish ready
5 large potatoes
2 tblsp butter
3 tblsp milk
1 tblsp olive oil
1lb mince beef
1 Lge onion – chopped
4 cloves of garlic- chopped
2 tblsp tomato paste
2 litres of beef stock
3 tsp marjoram
1 tblsp parsley
2 tblsp Worcester sauce
6 drops of Tabasco if you like it spicy
salt and pepper.