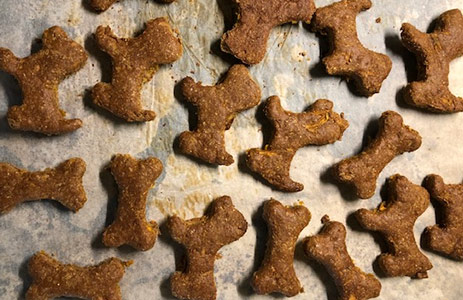 Freddies Delights – Dog biscuits! The biscuits looks so good that you will want to eat them yourself… And you can if you like! But your Dog will love them!
Beat the eggs adding bicarb of soda, honey parsley, grated sweet potato. peanut butter then the flour.
Mix well with a spoon or hands then leave for half an hour.
Turn on oven to 180.
Roll out mix on a sheet of baking parchment paper…..quite thin. Use cookie cutters or not, then put in the oven for about one hour. Leave to cool before breaking up or pulling out shapes……
2 eggs
1 teaspoon of bicarbonate of soda
Drizzle of local honey
Sprinkle of parsley
1 tablespoon of peanut butter
Grated sweet potato
2 cups of wholewheat flour